The Tap Dance from Champion Pedals is a 2 channel remote true bypass looper. You can select both loops discretely with a TRS 2 button Footswitch, or you can press the mode button and use a TS 1 button Footswitch to "Toggle" between the 2 loops.

Since the Tap Dance is remotely controlled, you can keep it in your rack or even under your pedalboard for stealth operation. This also allows you to use as long of a cable as you like without signal degradation.

The Tap Dance is designed and built in the USA by hand.
Ben Shepherd from Soundgarden is using the Tap Dance and the TGC-1 in his rig to control his Mesa Boogie V-Twin overdrives.
The Tap Dance does the Tap Dancing for you!! ™
Features:
2 Channel remote true bypass looper with gold plated relays. Switches both the effects and the cables of any attached device.


Two modes;
Discrete mode allows switching of loop 1 and 2 via a TRS footswitch. Toggle mode allows you to toggle between loops 1 and 2 via a TS footswitch.


Featuring Champion Pedal's exclusive CleanSwitch™ Silent Switching System. Both loops are muted when bypassed to silence quiet high gain and noisy effects


Can be mounted underneath your pedalboard or in the back of a rack case, saving space


Defaults to both loops bypassed in the event of power loss


Loops are internally normalled allowing seamless use with an empty loop


Hand assembled in the U.S.A. with the highest quality components available


1 year Limited Warranty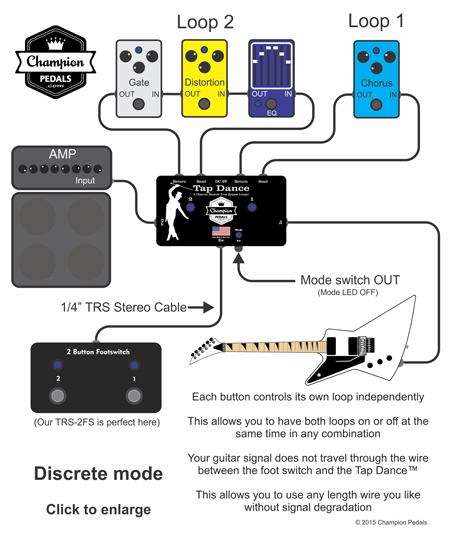 Overview
Features
Use Example
More Examples