The HT MIDI Interface from Champion Pedals is a MIDI controlled 8 channel amp switcher primarily made to control Blackstar™ "HT" series amps with the 9 pin footswitch connector.
In addition to the 9 pin control, it also features 2 isolated stereo 1/4" jacks that offer control of up to 4 more functions on 2 devices.
The HT MIDI Interface outputs can be set to latching as well as momentary.
The HT MIDI Interface features a micro USB connector and works with Mac and PC as a driverless install.
The included Configurator™ software is compatible with PC and Mac and gives you an intuitive GUI interface to set the HT MIDI Interface's parameters if your needs differ from the default settings. Deep editing is made easy with the Configurator™ software.
Works best with a Ground Control Pro™, though it will also work great with a Rocktron MIDI Mate™ or Behringer FCB1010™
Features:


The HT MIDI Interface stores 128 presets internally


Controls all 3 channels of your Blackstar® amp as well as the reverb


2 1/4" TRS jacks, allowing independent control of 4 amp functions. They are ground isolated, preventing ground loops


Accepts MIDI CC (80-87 by default) as well as MIDI PC



9 pin D-Sub connector works with your stock footswitch cable



Micro USB connection allows connection to the included Configurator™ software and future firmware updates



Beautiful and durable powdercoat finish can take a beating



Hand assembled in the U.S.A with PRIDE!



1 year Limited Warranty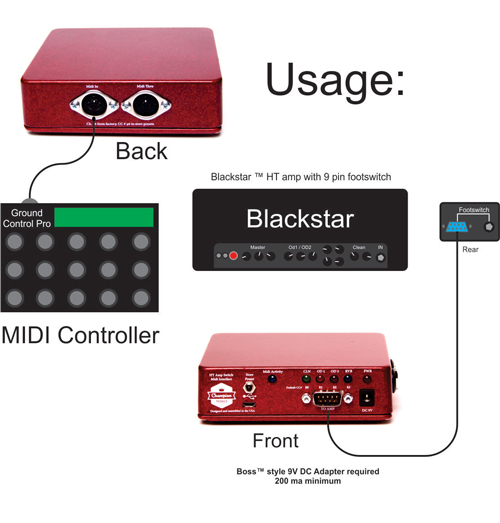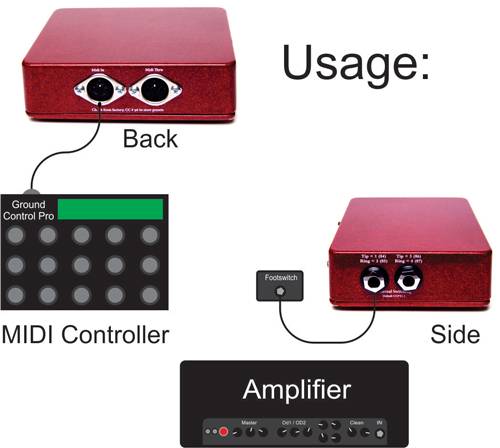 Overview
Features
Use Examples
Use Examples 2