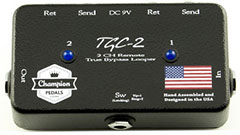 April 2014

TGC-2™ Remote 2 channel true bypass looper gives you a lot of power in a small space. Mount it either on or under your pedalboard, or inside your rack and control it remotely from the front of the stage!

$110 +Shipping


Ben Shepherd from Soundgarden is using our Tap Dance™ & TGC-1™ remote true bypass loopers on tour to control his dual Mesa-Boogie® Distortion pedals. The Tap Dance™ allows him to toggle between the 2 distortions with 1 button press, while the TGC-1™ allows him to bypass both.
The pedals live in his rack and they are controlled remotely from his pedalboard.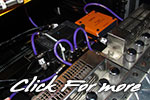 The growth that has been fueled by you guys is truly amazing and we couldn't do it without you. With that, we are currently transitioning from a 1 off custom order company to a small production company with stock ready to ship. The quality is actually getting higher! All products now ship the next business day unless noted otherwise on the product page.
Please E-mail us if you have any questions or concerns
at Info@ChampionPedals.com
Thanks!